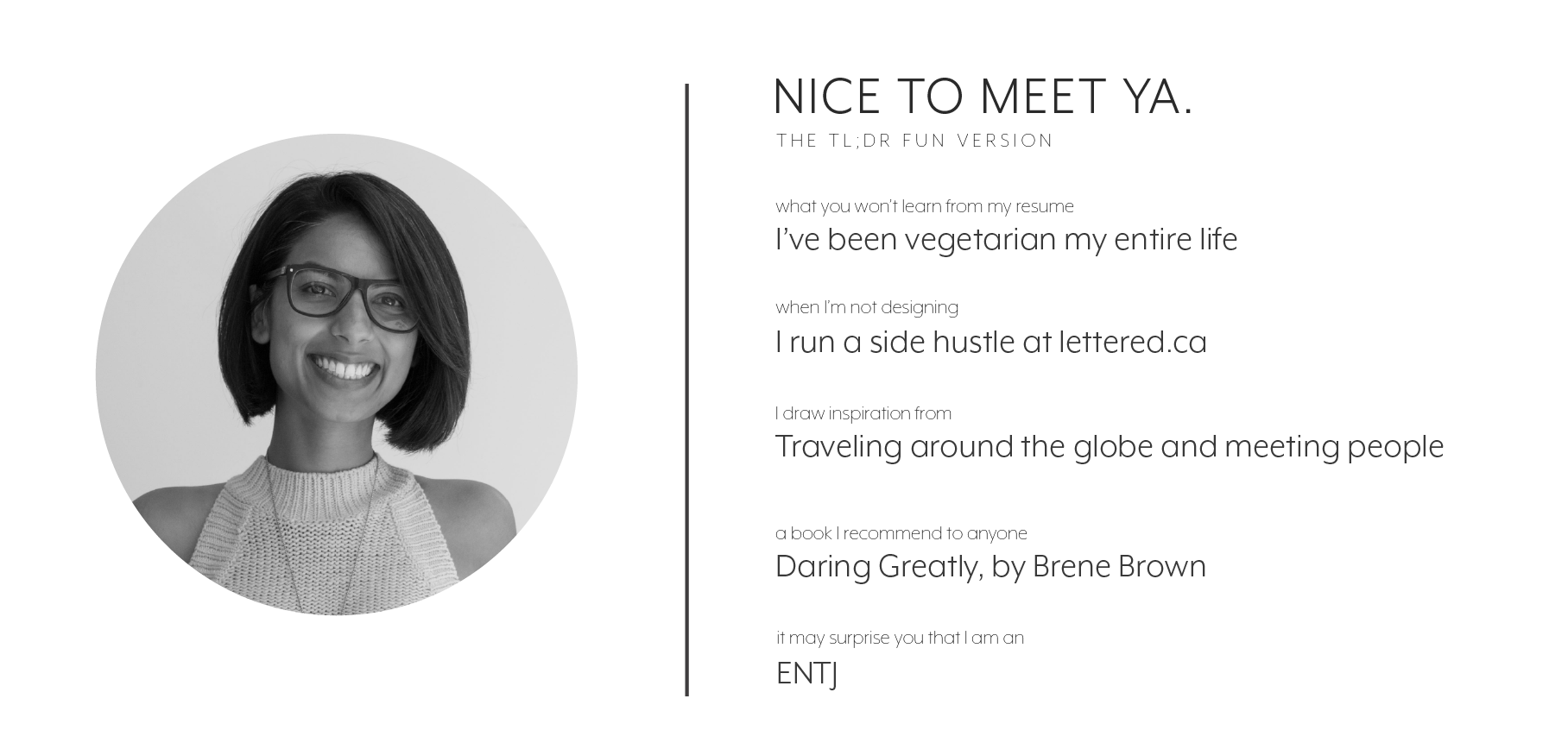 Why I switched from advertising & sales to UX Research 
Growing up as the youngest child of 3, I was often expected to rely on observations to learn the things I hadn't been taught yet. As such, being overly inquisitive and obsessed with finding patterns of my siblings behaviours became second nature to me very quickly.
With fairly large age gaps, I found myself with a lot of solo time. I began to craft stories about the things I acquired through my observations and experiences of my world through my eyes. Overtime, writing became an outlet for me. My once journal entires became extensive research papers, public chronicles of my travels around the globe, sales pitches, marketing briefs, carefully constructed e-mails. I took pride in structuring words that were efficient, thoughtful and delightfully persuasive.
After completing my BBA at Wilfrid Laurier University with a focus on marketing, I spent the next 7 years leading campaigns and sales pitches for brands including: Smucker Foods of Canada, Toyota, Canada Dry-Motts, L'Oreal, Toronto Vegetarian Association, TELUS, and Flipp. Working in companies of various sizes, structures and diverse leadership styles, I quickly developed a strong business acumen, and learned that what fulfilled me most about account services and sales was the process of deeply understanding my clients. What motivated them, what were there goals, and pain points, and how I could create business solutions that were designed to also address those.
Coming across the discipline of design thinking and user experience, I was immediately curious to learn more. I combed through my professional network and set up coffee dates with anyone in the industry who would talk to me. My discussions were fruitful and exciting, especially learning that my background in business, acquired skills, and personal interests could not only fit into design roles that would allow me to drive meaningful change for individuals everyday, but were stand out skills for the discipline.
I felt inspired learning about work that resonated with me on a such a personal level. I was confident that this was the next step I needed to take in furthering my professional  and personal goals. So in September 2017, I left my job in sales and enrolled in BrainStation's full time 10 week UX immersive course. My final project focused on building community for residents of high rise spaces in urban areas.
1.
Designing
a workshop with my OpenIDEO Toronto team for Ever Green Brickwork's 
2.
Researching
 food habits of students with a team of three, as a part of my Human Centred design course work with Acumen & IDEO
3.
Freelancing
as a Sr. Project manager at Hogarth Worldwide on the TELUS Vancouver account 
4.
Seeking
 the right team to join that will challenge me to keep growing and learning as a UX Researcher
5.
Planning
my upcoming wedding to my partner of 3 years, this September!