​​​​​​​​​​​​​​CASE STUDY

:
NOOK
I DON'T KNOW ANY OF MY NEIGHBOURS, WHY?
In September 2015 I moved from the suburbs to a one bedroom apartment in the city. I lived on the 6th floor of a 30 floor building. I didn't know anyone in my building, but everyday on my commute to work, I'd inevitably find myself in the elevator with the strangers I lived a mere metres away from. Often I considered a hello, but most of the time I'd distract myself by looking busy on my phone. I'd walk away everyday feeling guilt and a sense of loneliness. Couldn't I at least manage to say how are you? 
I calculated that over three years I had the opportunity to meet close to 2,000 potential neighbours, but outside the occasional small talk about weather, babies and dogs, I couldn't name a single person in any of the buildings I lived in. Considering I had friends in the city and wasn't new to the country or province and felt this loneliness, I couldn't help but wonder, did others feel this way?
View my live presentation to my colleagues (I appear in the frame at 0:39!)
ALL HUMANS INNATELY CRAVE HUMAN CONNECTION
To determine whether my daily struggle was in fact a human centred problem (and not a "Sonal being a unfriendly human, problem"), I started off with the basic hypothesis that all humans crave some level of human connection. I reasoned if my hypothesis were true, than other people I share elevator space with daily, might also be looking to connect, but face similar barriers to me about where to start. This lead me to the below question.
​​​​​​​
WHAT FACTORS CONTRIBUTE & PROHIBIT SOMEONE TO CONNECT TO THEIR NEIGHBOURS?
To identify current barriers and enablers to building relationships with your neighbours in vertical spaces I engaged with friends and colleagues who fit the simple criteria of living or lived in a vertical residence both in and outside the city. I asked questions including: "Describe your daily experiences in the elevator?", "Do you have any relationships with anyone in your building"?, "Do you wish you knew people in your building"? The below were my key findings:
Barriers to building relationships with your neighbours:
1. Elevator ride duration:
Too short to establish meaningful conversation
2. Judgement:
"I don't want to be the weirdo who says hello"
3. Physical space:
Outside the elevator, there aren't any common areas where I naturally bump into my neighbours
4. Attitudes & Beliefs:
I don't care to know my neighbours, they are strangers and I'm happy not interacting with them
Enablers to building relationships with your neighbours:
1. Shared Lifestyle:
I know my neighbour(s) because we both have kids and/or dogs in common, so often we're in common situations
2. Physical Space:
 Many common areas in the building (ie: shared bbq, laundry, amenities) provide opportunities to connect in a real way
3. Long Term Residences:
Our building is small and mostly long term owners versus renters so we've built relationships with our neighbours
> Research Planning & Criteria
"80% of individuals interviewed said they wished they knew even one person in their building to occasionally spend time with"
(October 2017, based on ten interviews, conducted in Toronto)
WHAT PRE-EXISTING RESEARCH SUGGESTS THIS IS A HUMAN CENTRED PROBLEM?
While my preliminary primary research strongly suggested my problem was also potentially a true human centred problem, I wanted to better understand whether any research had already been conducted on communities in vertical spaces of urban areas. Was someone else trying to solve this problem already? Why or why didn't it succeed? 
1. No existing single solution addressing communities in vertical spaces
Based on my competitor analysis, all condos were using different methods to build community, primarily Facebook, various intra web systems, and periodically holding building socials. None completely accomplished providing an accessible network for everyone. 
2. Physical space constraints are a primary barrier
While "spontaneous interactions" were cited a priority for Rize Alliance builders, residents reported that more recently erected vertical spaces suggest "developers aren't making...[community] any easier. The average condo is built in a slap-dash, anti-social fashion" 
(Data source: see E5 & E7 )
3. Residents are aware of the lack of community that exists
In my research, residents of vertical spaces in Toronto were quoted saying

"
Condo dwellers simply don't interact. When they do, it's a rushed veneer of a conversation. It's...weird"
(see data source E4) 

and 
"

After living in multiple condos throughout the city, one common factor I've noticed is just how little a sense of community there was at any of them. You're living in a densely populated area, and there's a huge potential benefit to cooperation" 
(see data source E2)
> Secondary Research Data
How might we establish a internal network for residents of high rise buildings in urban areas? 
PRIMARY & SECONDARY PERSONAS
WHO ARE MY USERS, AND WHY WOULD THEY VALUE THIS TYPE OF PRODUCT?
From the interviews conducted in the primary research stage I selected two individuals who best represented the user personas for this product. While the development of the final solution was based primarily on Rhea's persona, Paul's needs of having a supportive network close by was the key elemnt and commonality between the two that was a key criteria of the final solution.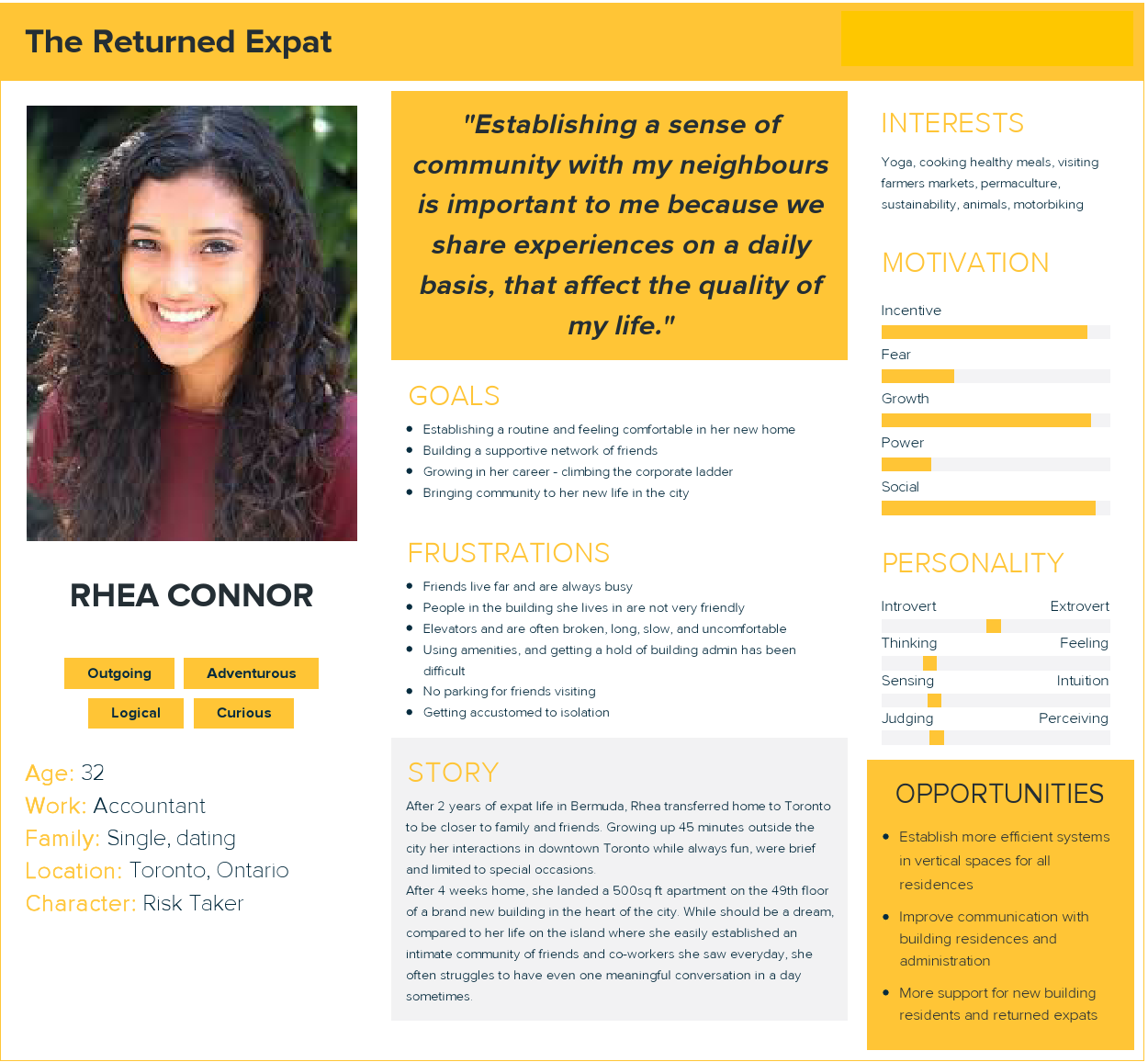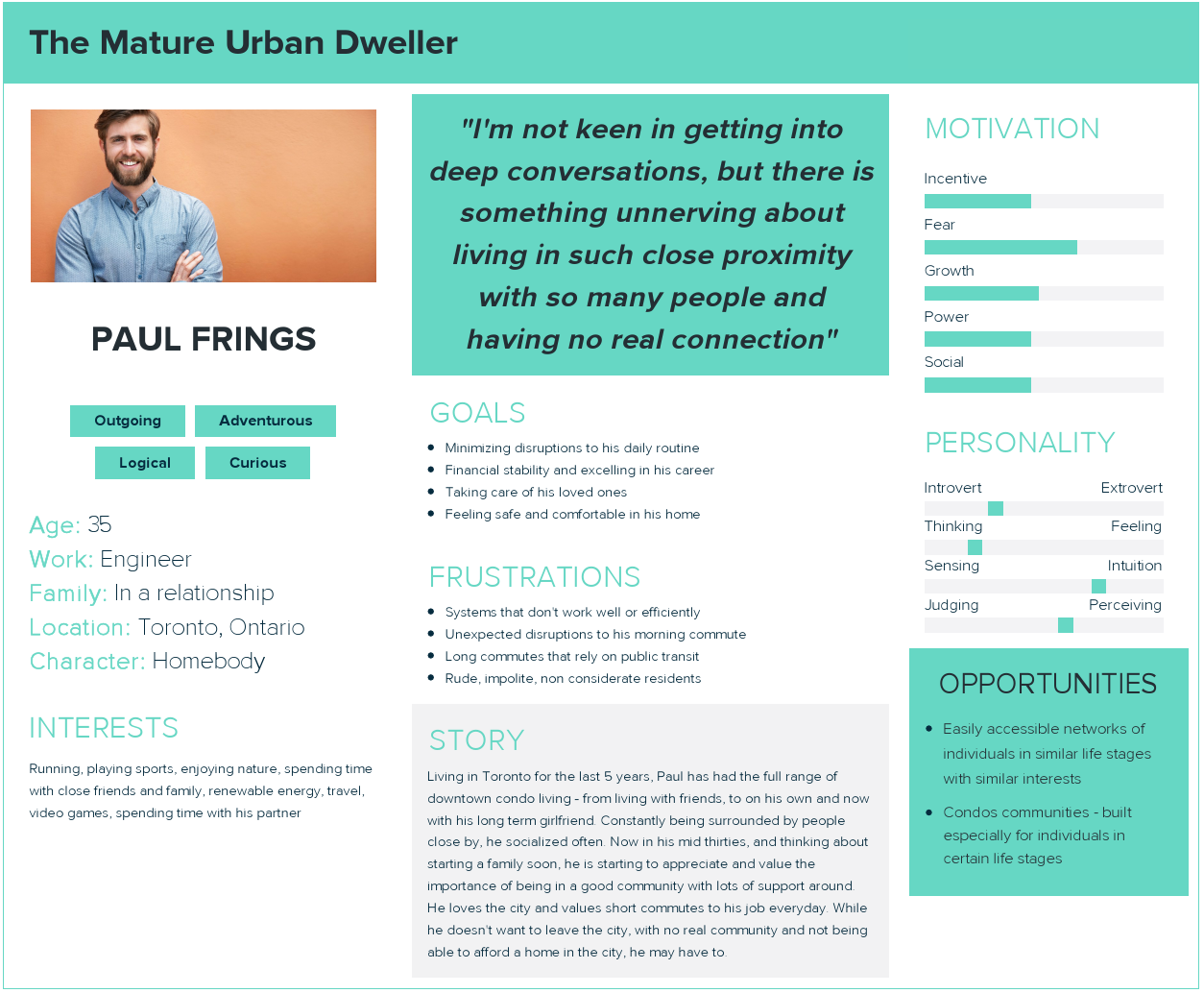 WHAT IS THE CURRENT EXPERIENCE AND HOW DO I DISRUPT IT?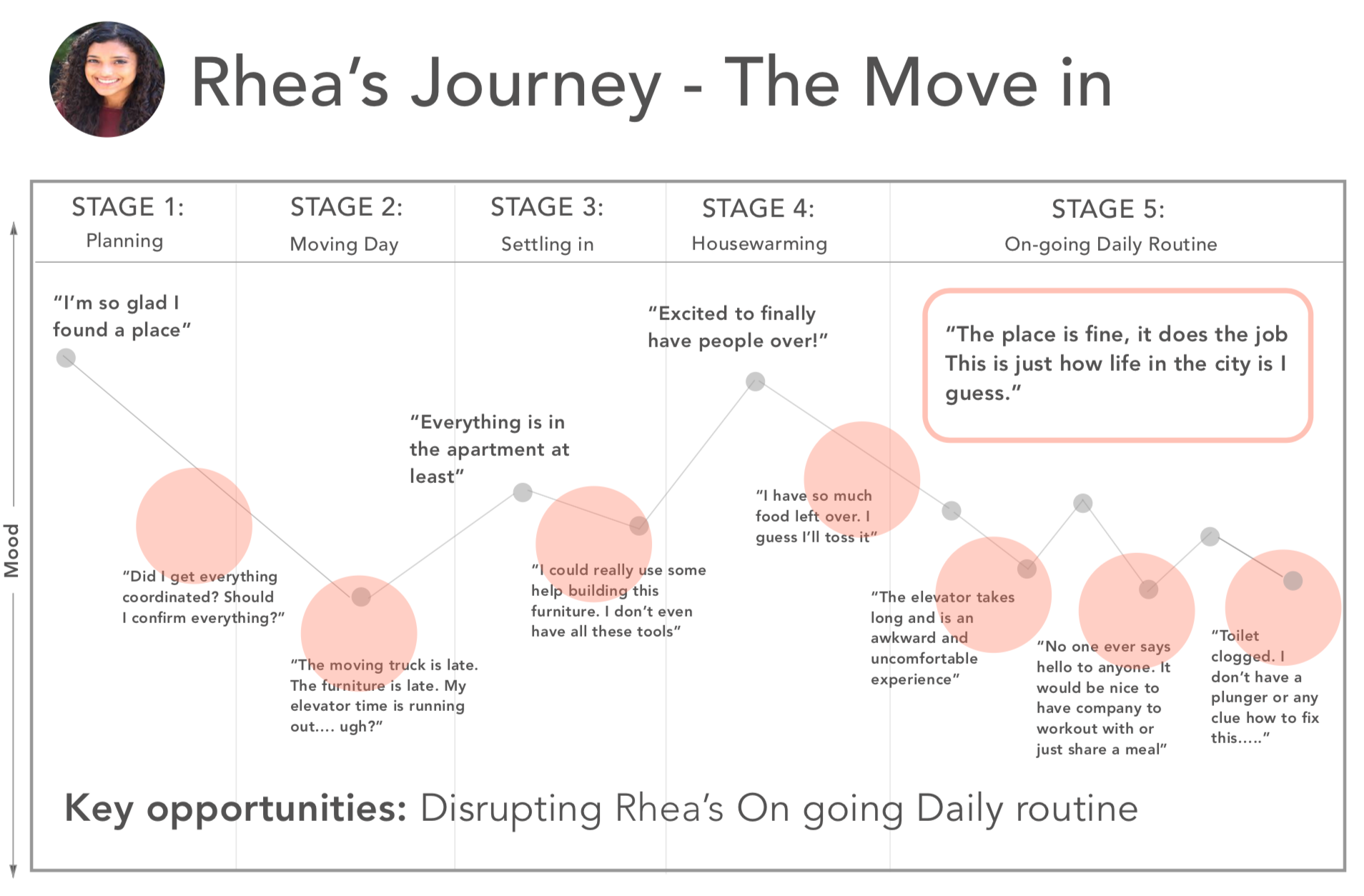 CREATING A SHARED DIGITAL SPACE IN VERTICAL SPACES
In building out my prototype, I drew inspiration from existing products that successfully created strong internal networks or communities within a certain environment. Slack was a great example of a mobile application that enabled a large group of individuals within an organization to collaborate, share, and build sub communities. When considering the variety of demographics that would be using this product I referred to the navigational systems of widely adapted products such as Facebook Messenger and Whatsapp with extremely low barriers to learning. The below are the initial ideation and wireframe sketches.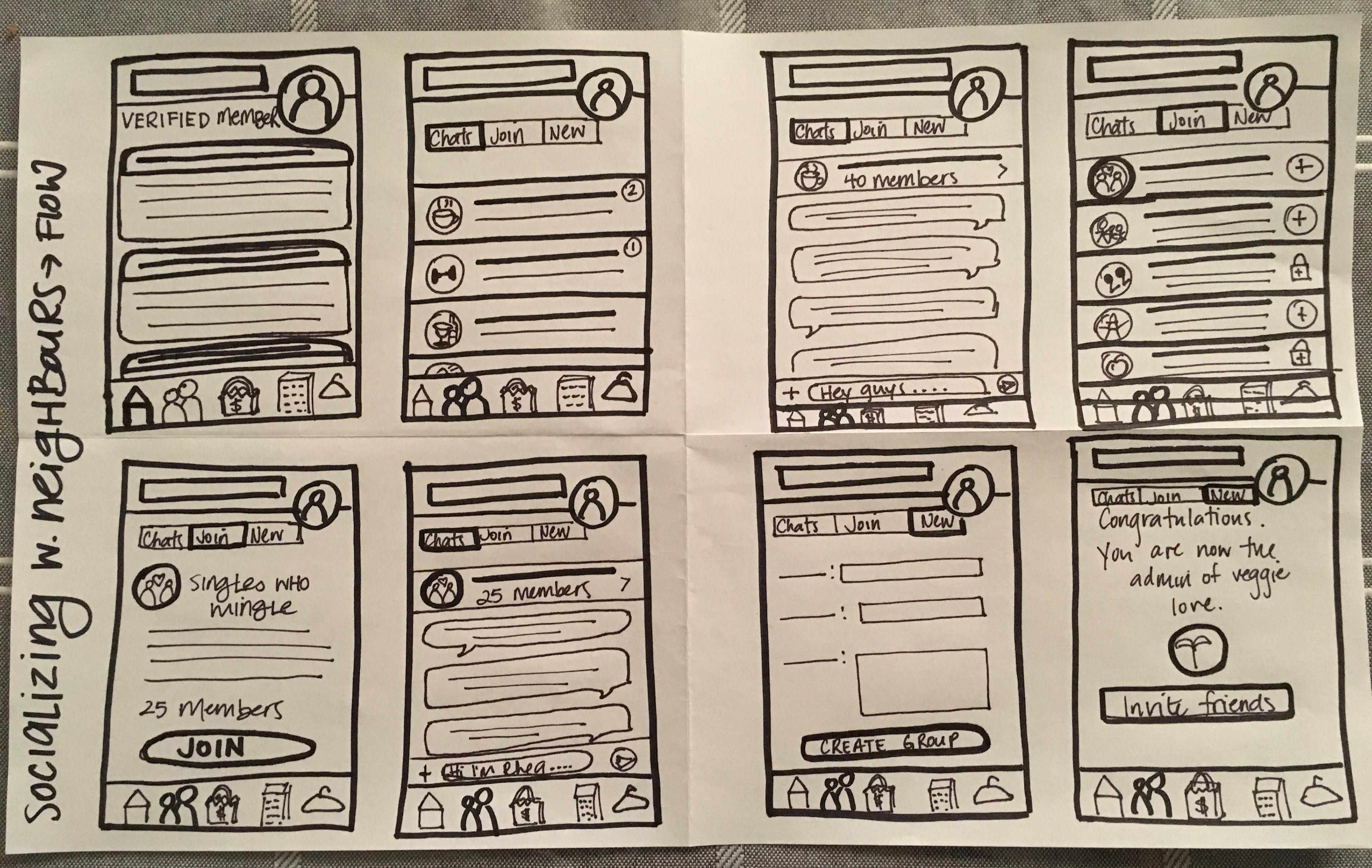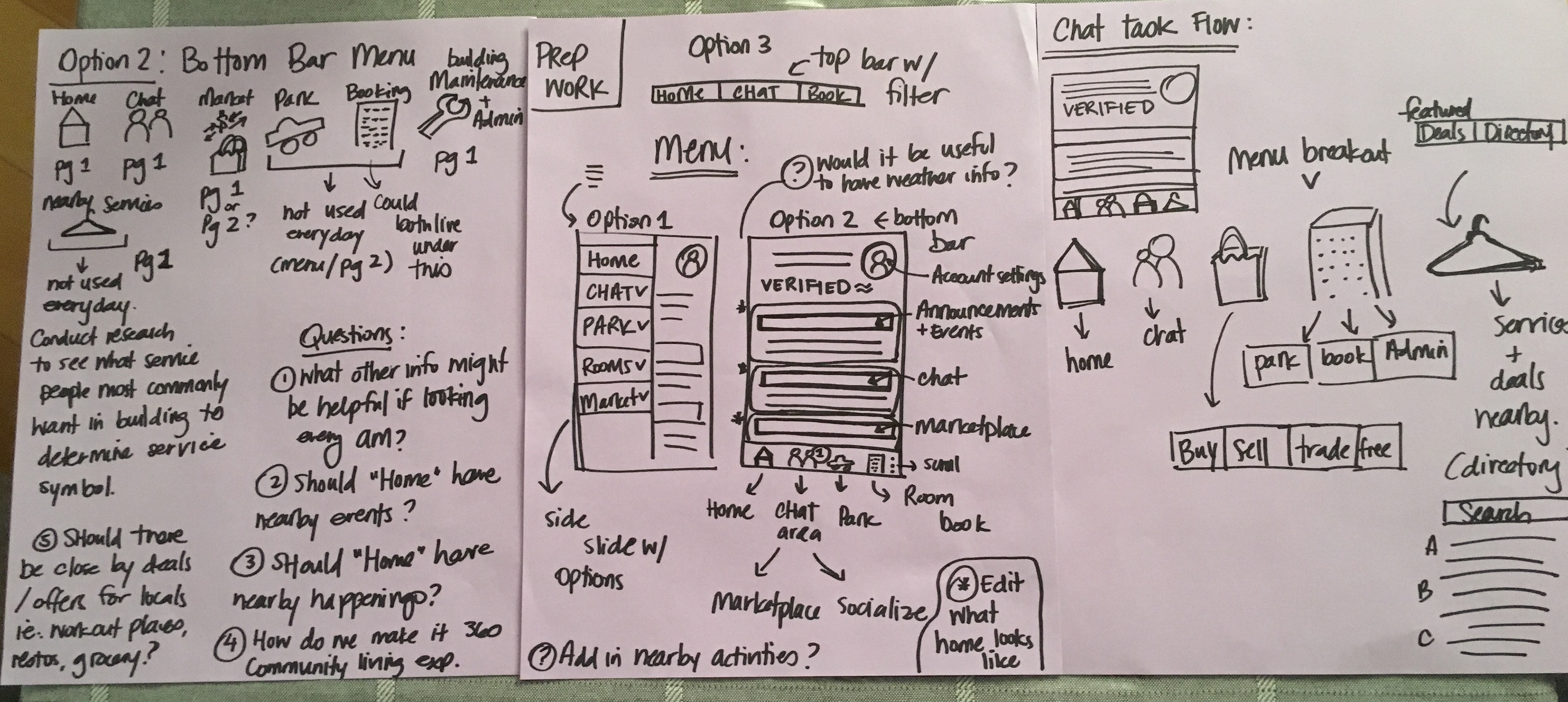 USER TESTING & DESIGN CRITIQUE
IS THIS A PRODUCT POTENTIAL USERS WILL ACTUALLY USE? 
Following two rounds of user testing I gleaned valuable insights about how to improve the usability and discoverability of my initial prototypes in wireframe stage, highlighted below. However, I still couldn't help but wonder whether my proposed solution was a product that my potential users would actually use.
During our program at BrainStation, once a week our entire class broke out into pre-assigned pods, consisting of 6-8 colleagues and one teaching advisor for design critique sessions. In the session each of us were allotted 10-15 minutes to discuss one specific challenge we were encountering with our solution, and an opportunity to solicit feedback from our peers. Following user testing I focused my time on posing the question to my pod: "user experience aside, is this a product you would actually use or care about, and why or why not"?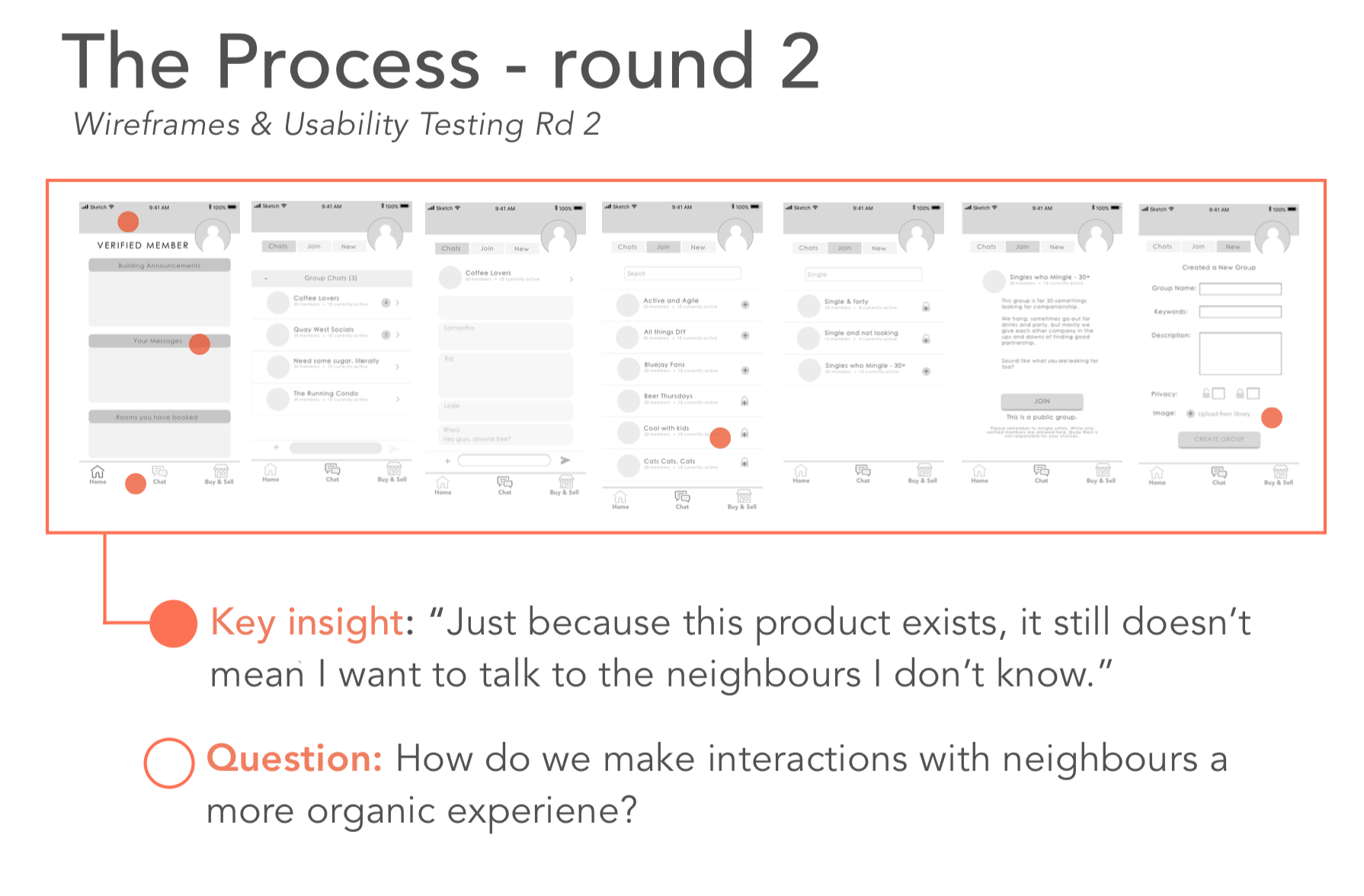 From our session, I learned from my colleagues (most who also met the criteria of my potential user), that while they appreciated having easy accessibility to their neighbours especially when help was needed, and felt addressing usability feedback from my user testings would improve my mobile application, they still found that having a chat product available to them was not a compelling enough reason to encourage adoption. 
As a resident, the neighbours they didn't know were still strangers to them and having access to being in conversation with them wouldn't make them any more likely to build that connection in a way that felt organic. 
Asides from the design critique session being pivotal to my next steps, it also clearly illustrated to me that perhaps I hadn't done a thorough enough job empathizing with my primary persona. More specifically, in creating a solution, I started to see perhaps I also had not truly addressed what my end user valued and how to resolve feelings of frustration during the process I had outlined in my journey map. 
I returned to the drawing board to iterate.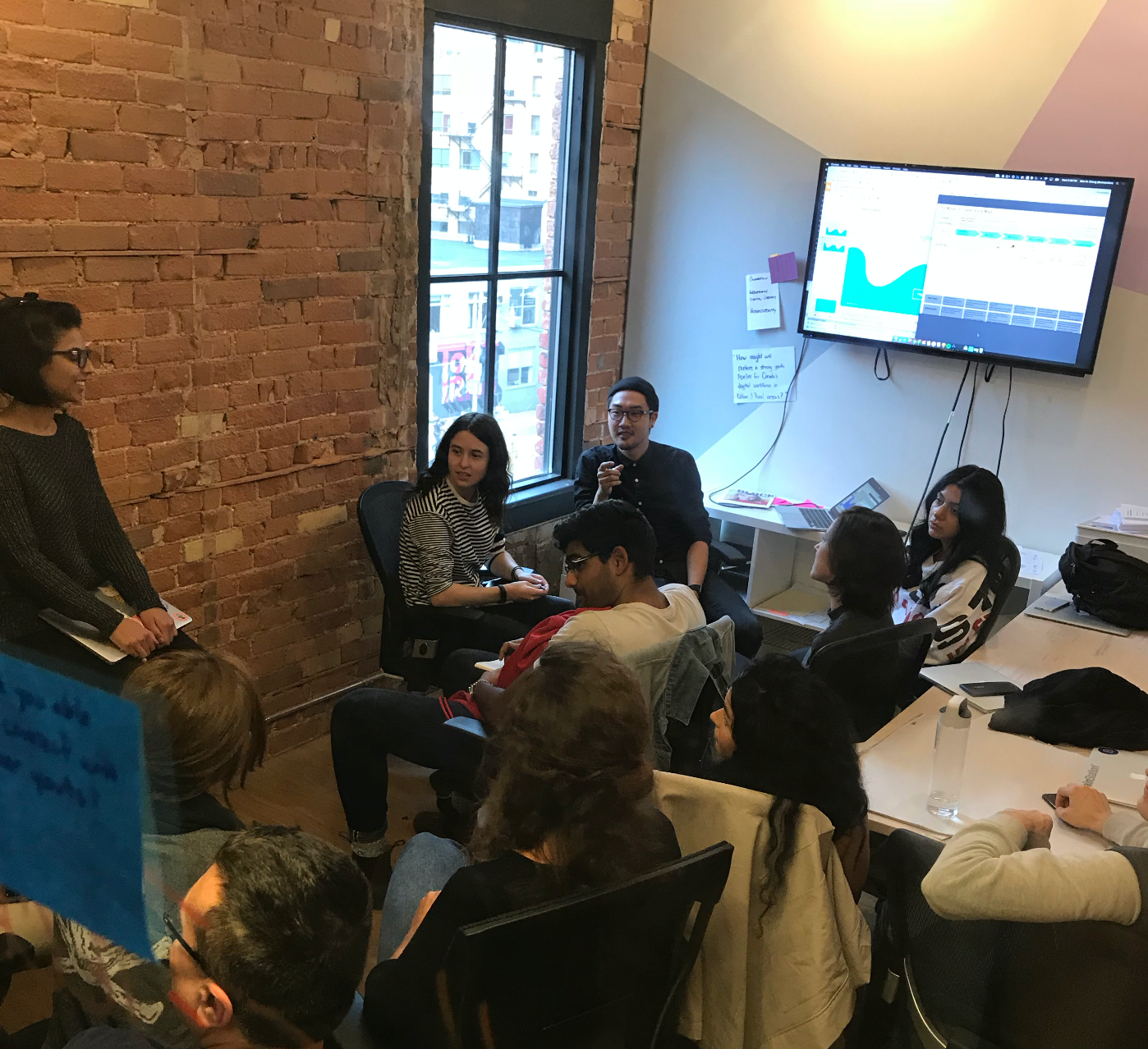 HOW DO I BETTER EMPATHIZE WITH MY END USERS?
I re-visited my user interviews and journey map. Reviewing all the data, I consistently found that users were unlikely to connect with someone in shared spaces, unless they:
        1. Had something in common in that space
        2. A compelling enough reason to start a conversation.
In the case of the elevator, the conversation sparker was generally a adorable kid/pet, or seeing that someone visibly needed a hand. While the idea of flooding the building with adorable animals and kids once a week was very tempting, somehow it didn't quite fit the criteria of the challenge. 
So, if residents genuinely wanted to help each other out and/or find help easily when they needed it, how could I use this information to build a network or community?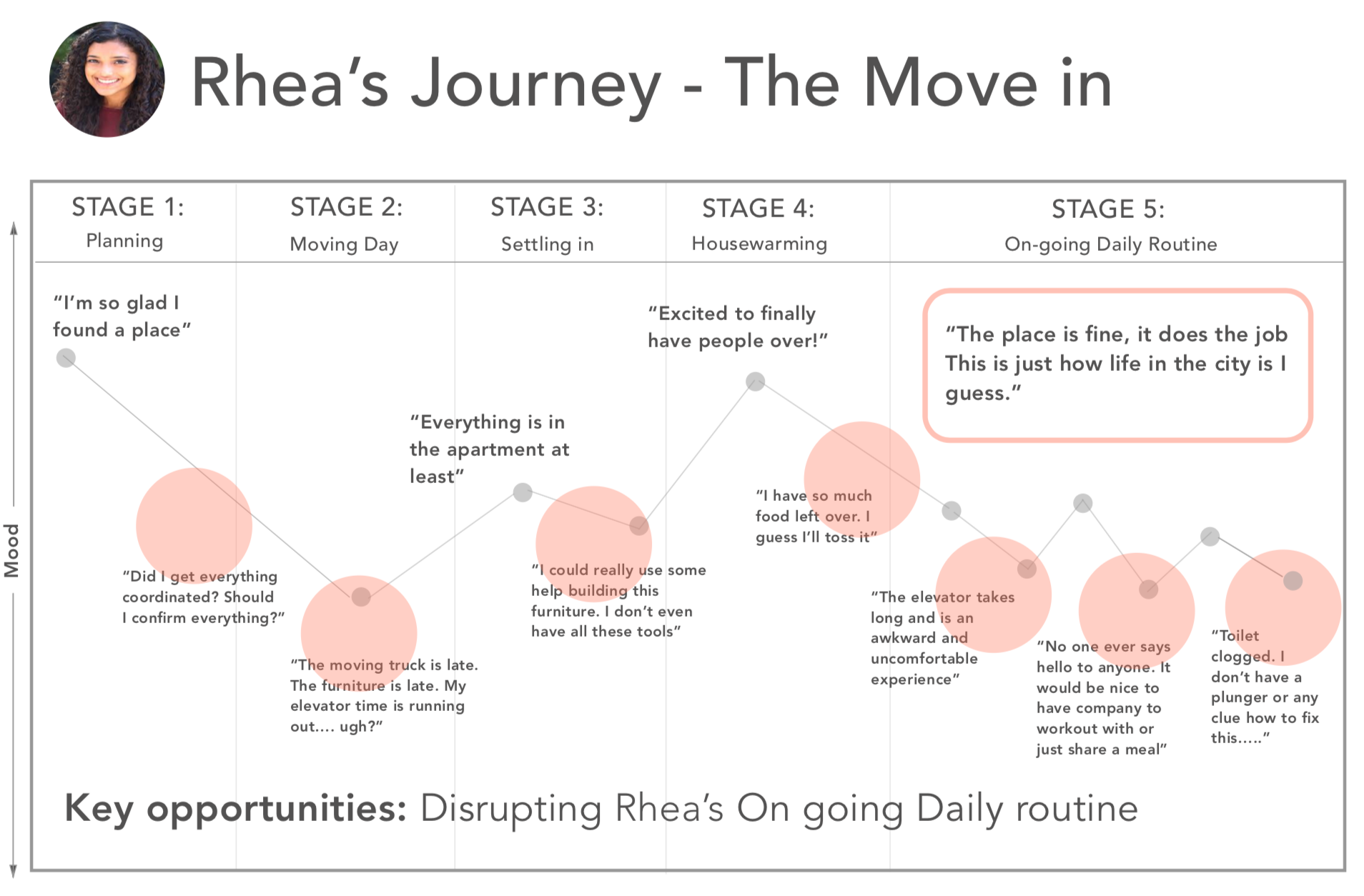 Pivoting from a "Messenger Product" to a Marketplace
To tackle this problem I put on my business hat and started to think about the problem like an algebraic equation. What were the knowns of my current solution? What was working and what wasn't? And how could I plot these data points to solve for "X"; the criteria my pivoted solution needed to meet. To visualize, I built out 
a venn diagram allowing me to see the differences of both functions in my current solution and identify what was missing. 
I could clearly see that the pivot needed to include a blend of both functions. Empathizing with my primary persona, Rhea, it was clear that the model of a buy & sell better addressed some of her daily needs.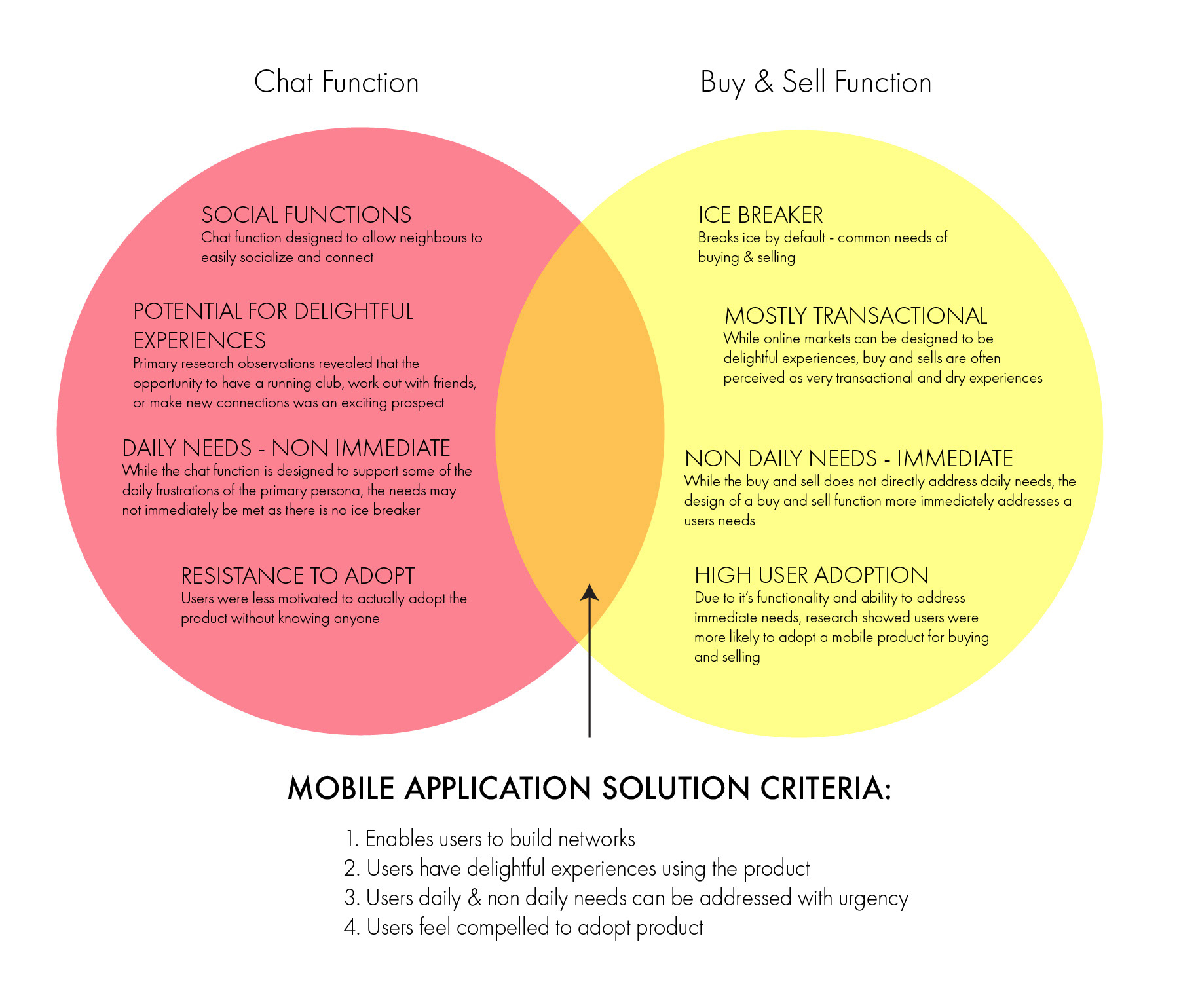 Ensuring I was staying on track, I checked in with my teaching advisor to share my findings. His key piece of feedback was to think about the problem differently. So far I had been designing a solution to disrupt Rhea's daily routine head on, but designing to build organic community required thinking about how to create a situation or experiences that caused Rhea to meet her neighbours in a more natural way. 
Re-visiting some of my earlier ideations and inspiration from my project plan, I noticed I had included a "virtual pin board" as one of my proposed solutions, as well as references to Bunz and CraigsList, two marketplaces that had created a somewhat accidental community. I also drew inspiration from Facebook functionalities of being able to create posts to "ask for help or recommendations". 
Connecting my research, feedback, and inspiration, it started to become clear to me where my solution needed to live. Through more notes and rough sketches, I at last landed here: a virtual bulletin board that allowed residents to seek help, and provide help in real time. With my new direction I began brainstorming, sketching and prototyping and iterating. Below is the first round of many iterations.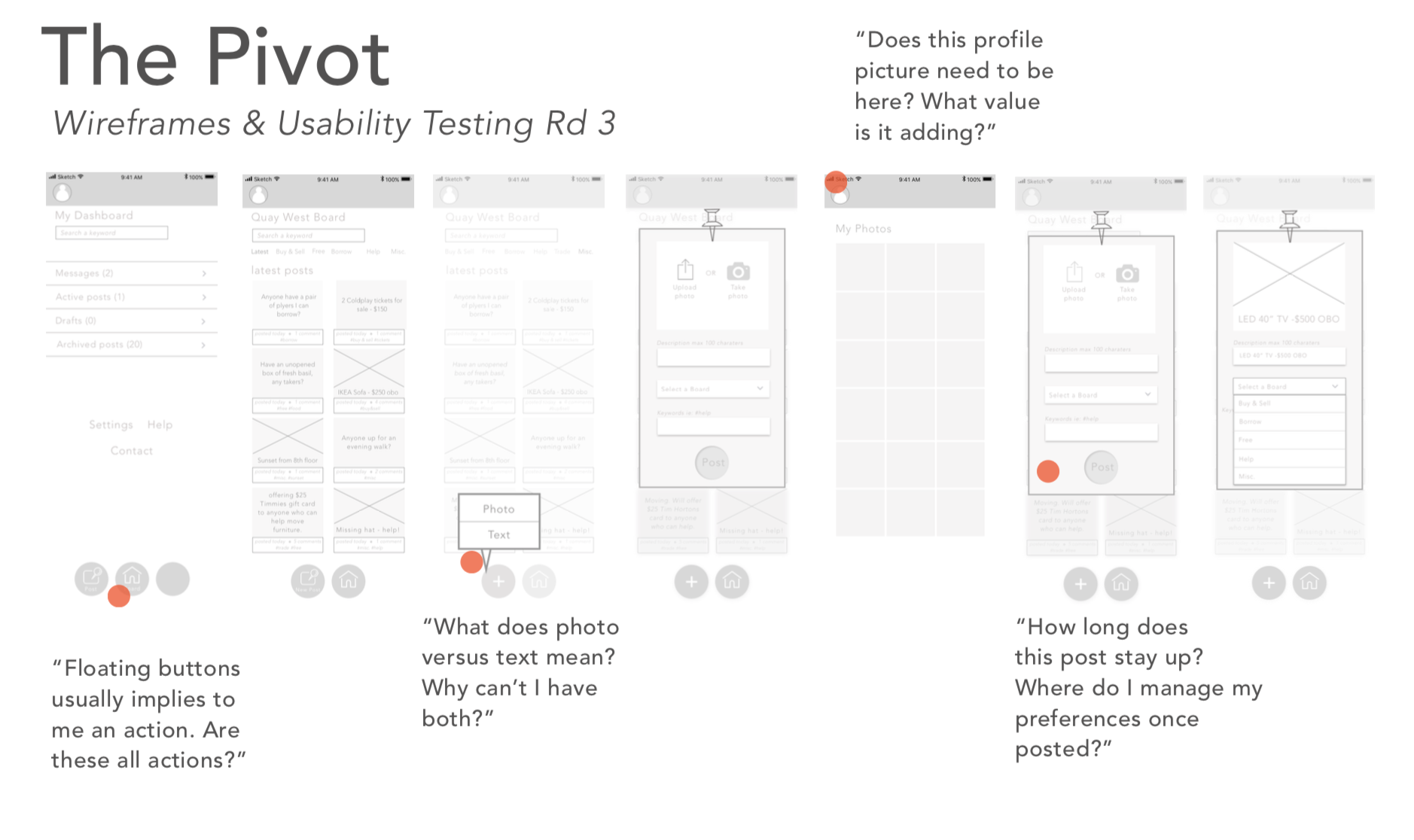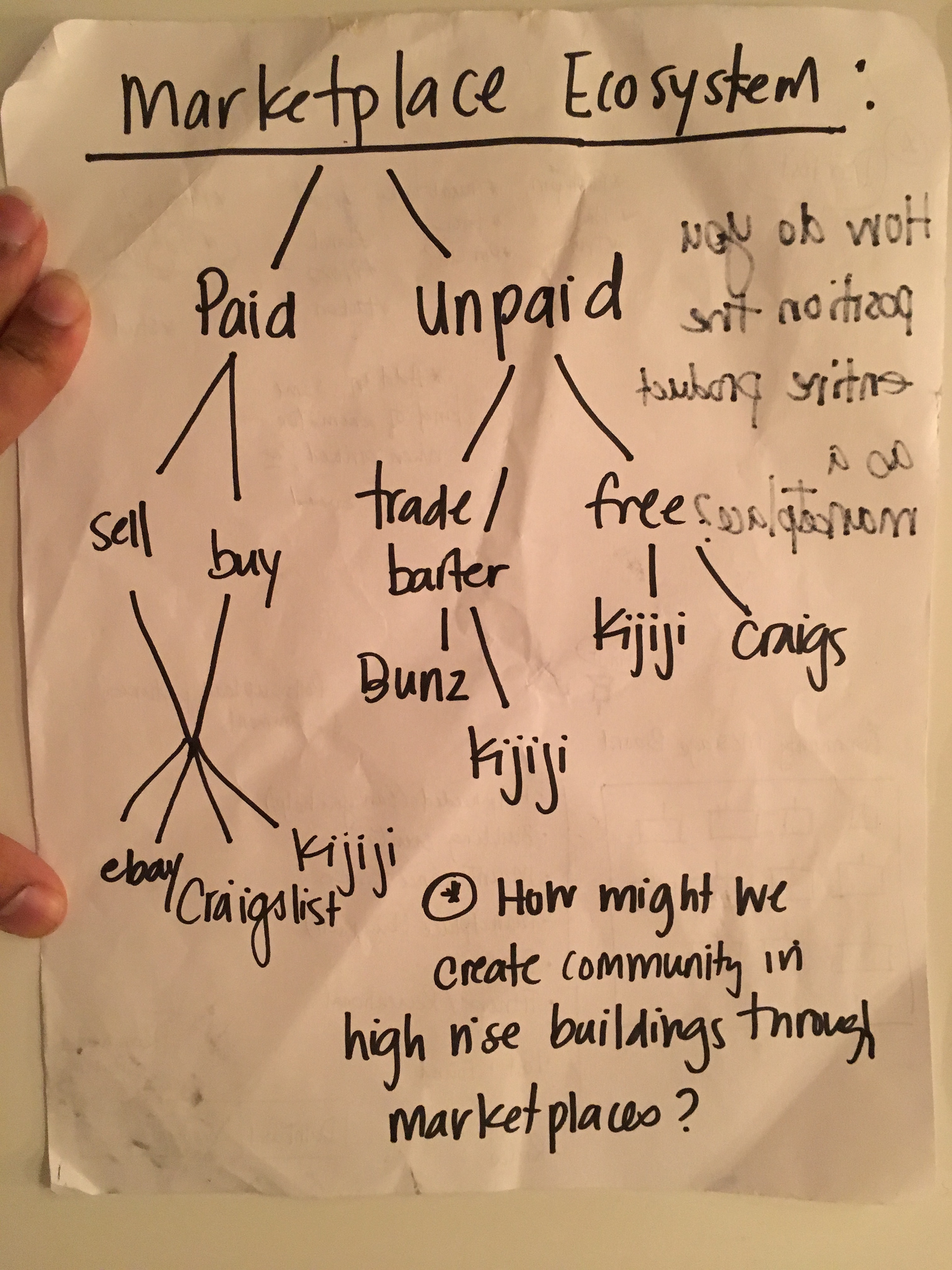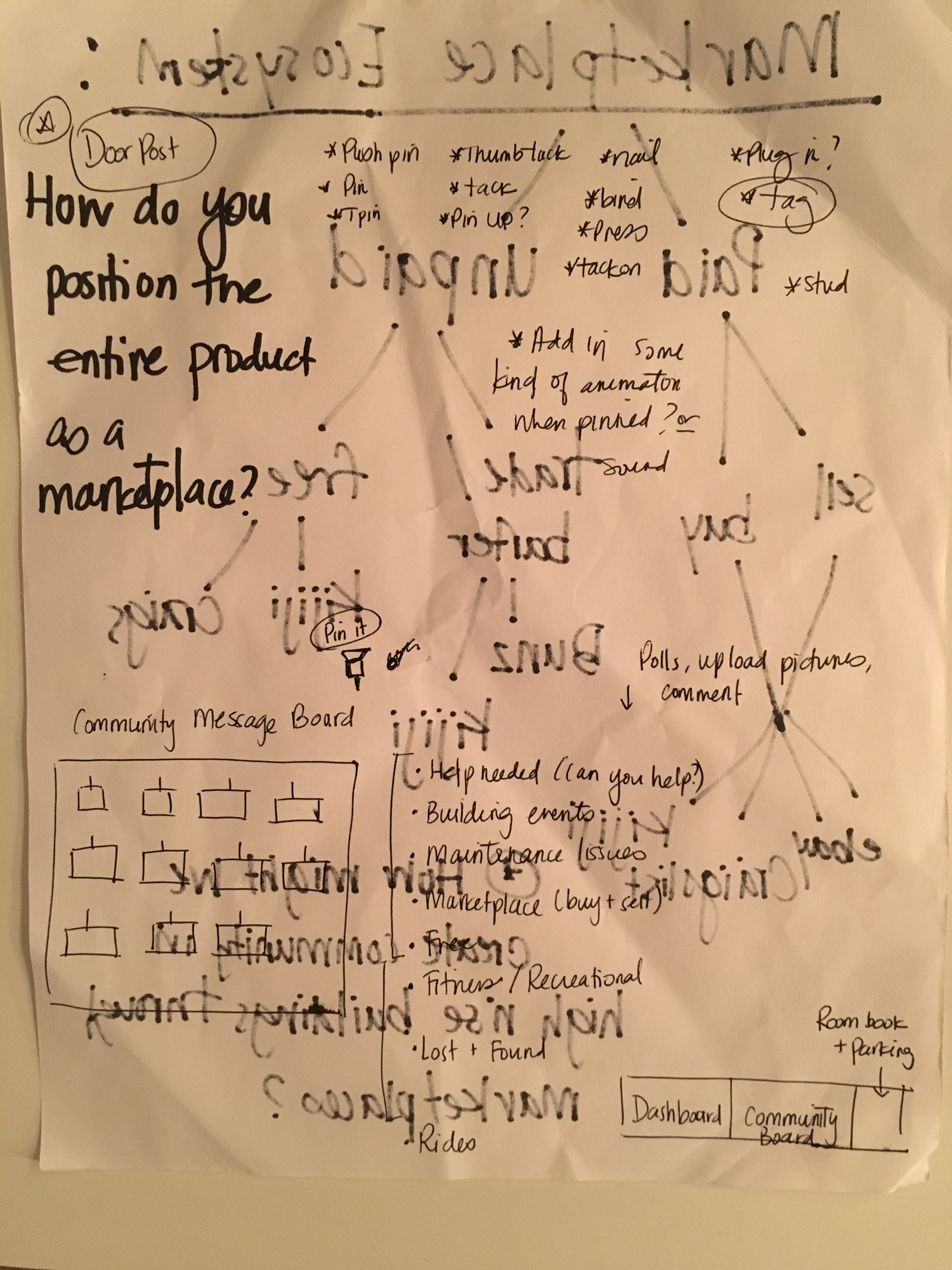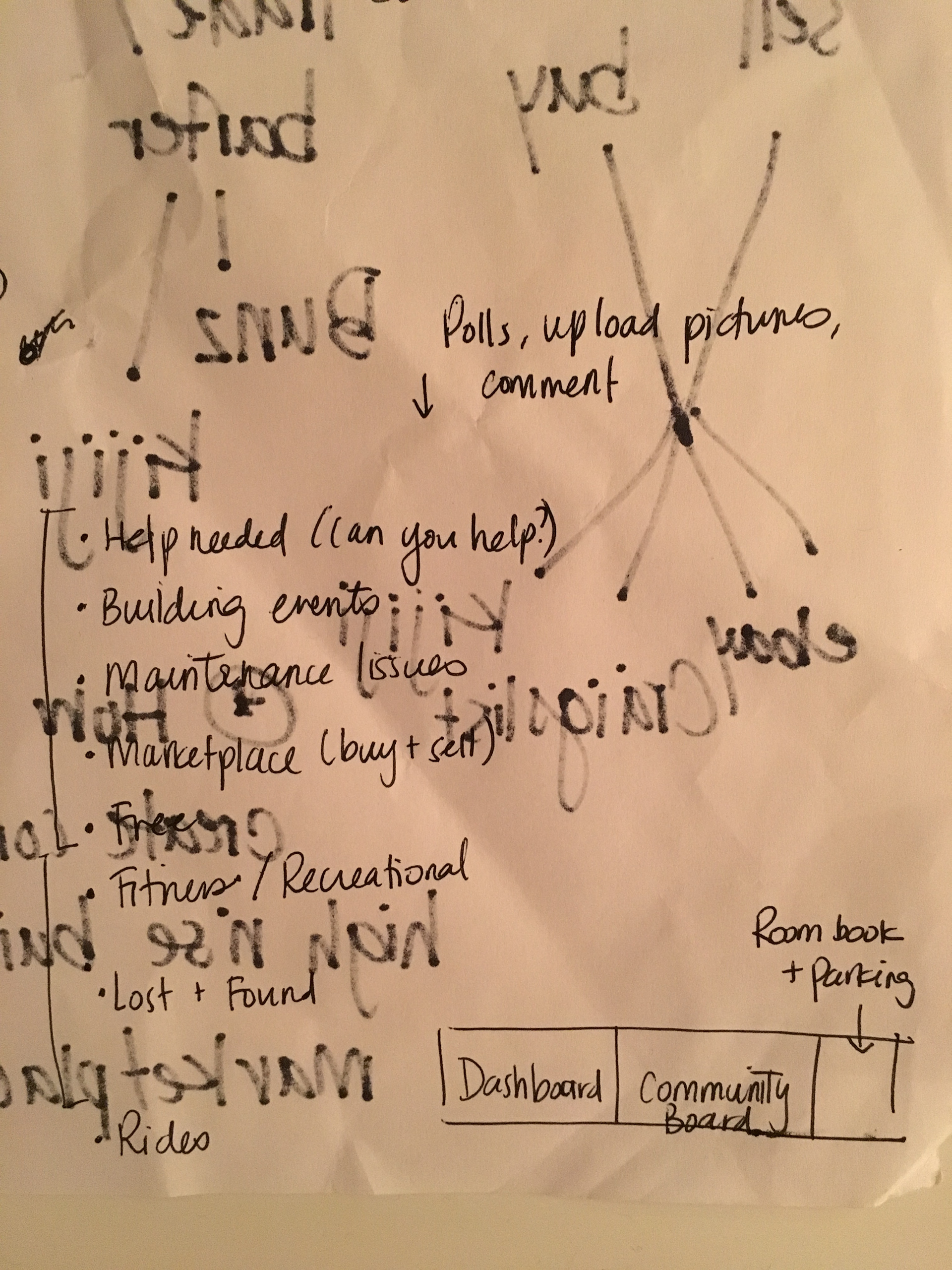 Nook, the easiest way to tap into your neighbourhood

​​​​​​​
Everyone should have easy access to a close knit community that they can look to for support, companionship and ultimately a sense of belonging that makes them embrace and re-affirm their nationalism. View the full product strategy
here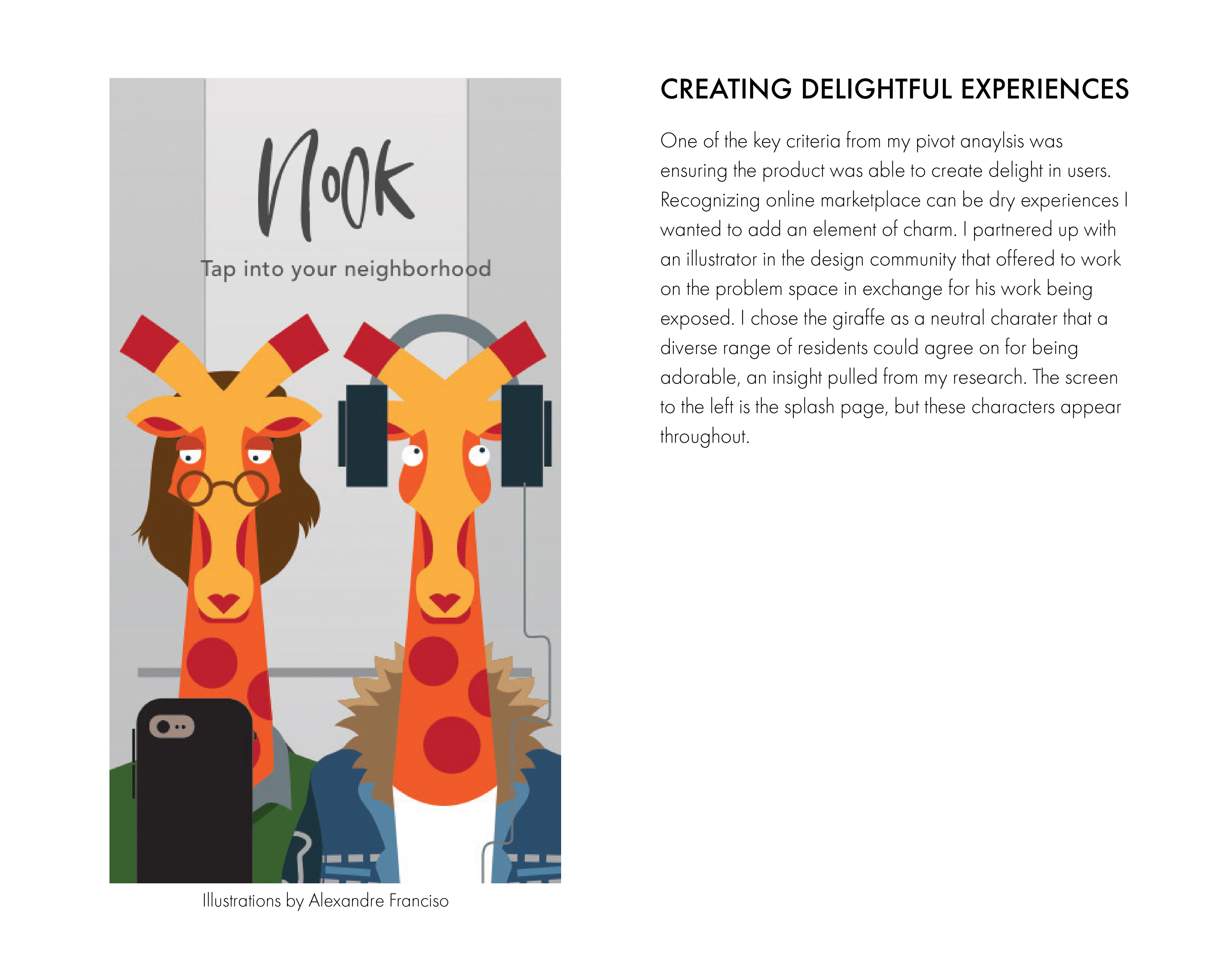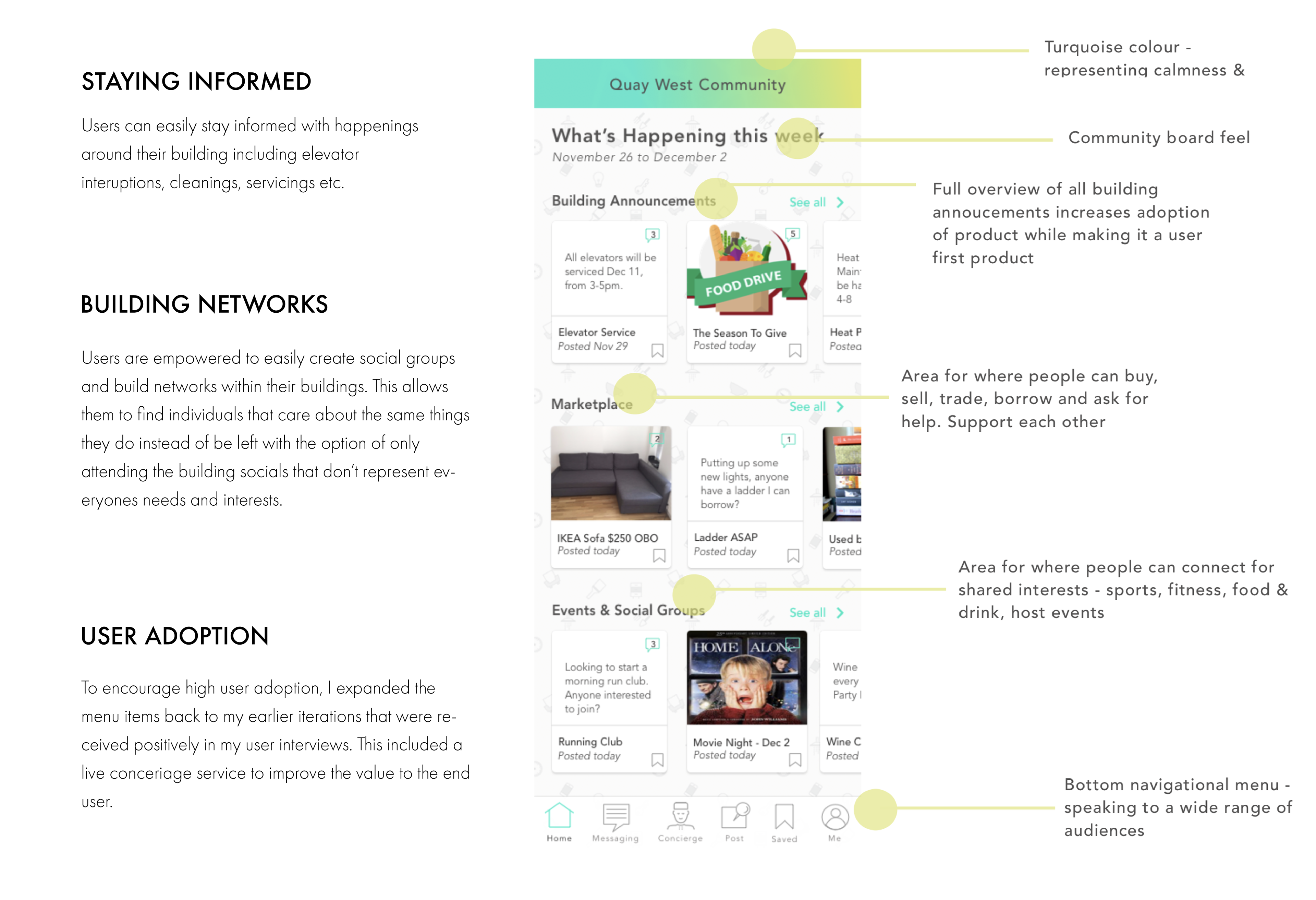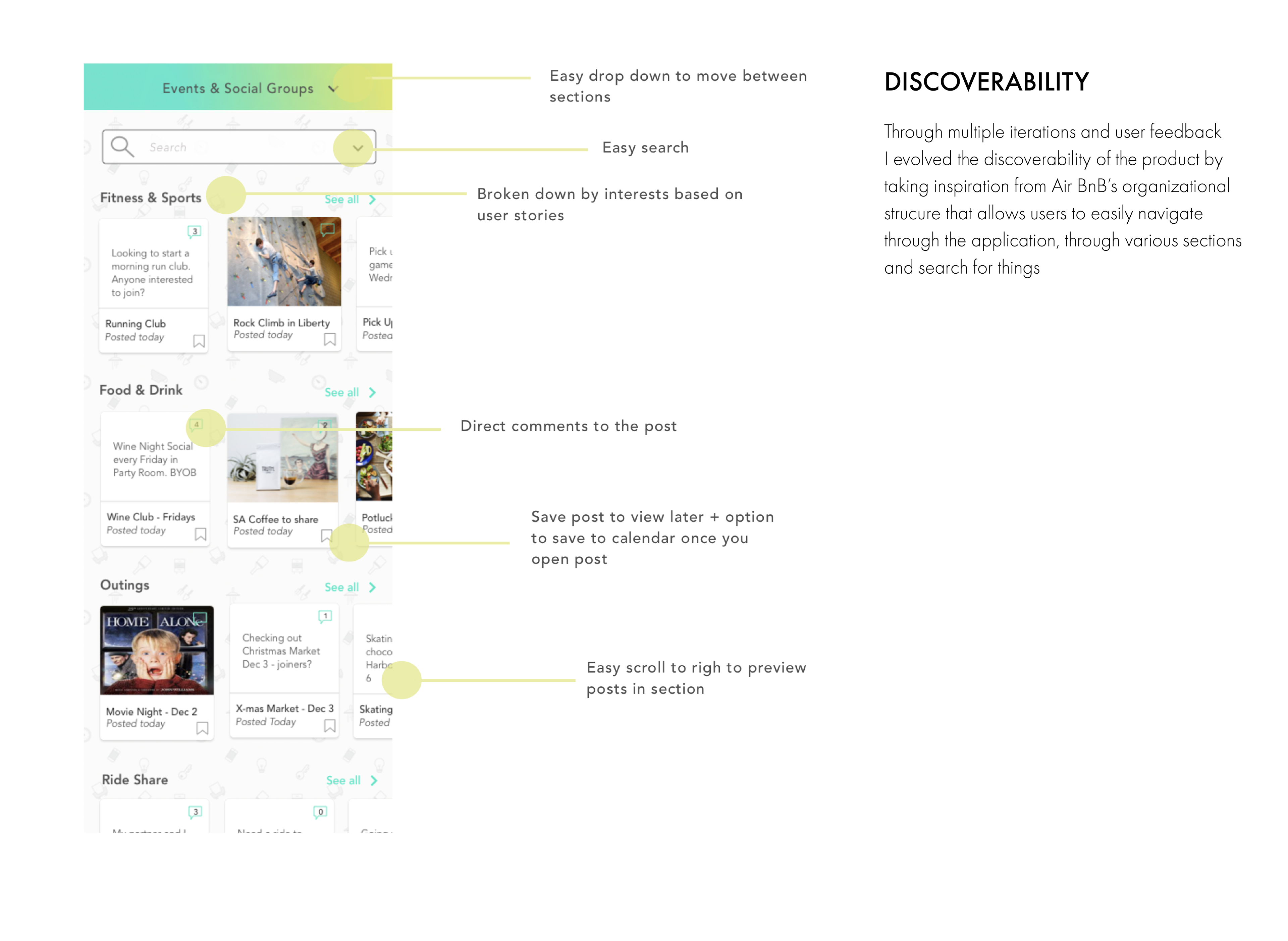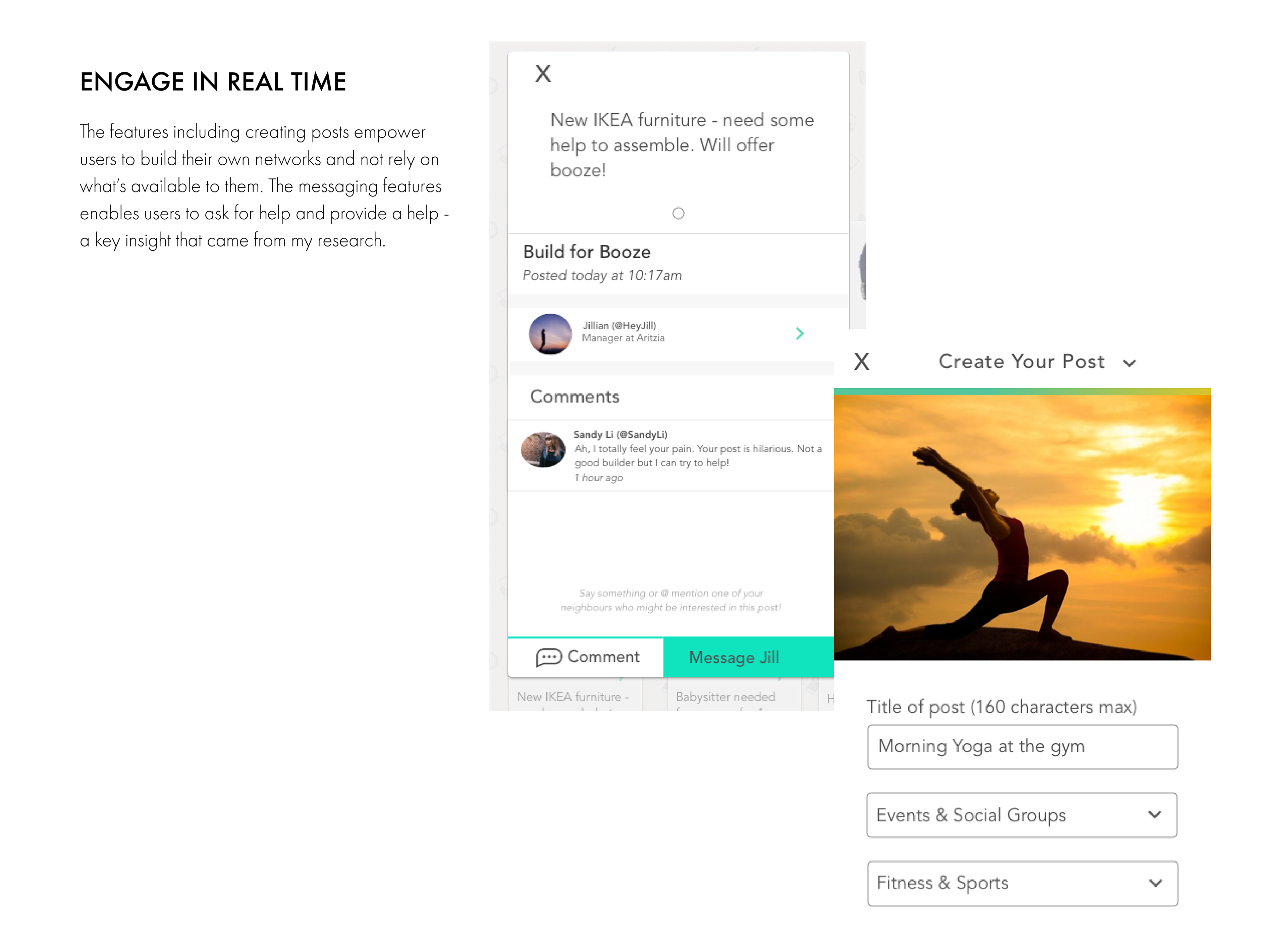 1. The Prototype model is based on downtown Toronto
2. An agreement to implement the solution in this specific building exists with the board of directors
3. This prototype is based off of a existing building - Quay West. 
4. If the prototype were to be implemented across various buildings, customized solutions would be in place to suit the needs of that specific environment
5. Before a resident can join, they must receive a confirmation from building security that they are a resident in the building 
6. Additional security measures would exist to ensure safety and moderation 
Connecting with Shiftsuite.ca
Following our Demo Day in Toronto where we shared our prototypes with industry professionals, I was fortunate enough to be approached by a gentleman who appreciated my product, and recognized an opportunity for one of his clients. He passed along the contact for the CEO of Shiftsuite, a company that leads Canada's condo software management. 
After a few back and forth Linkedin messages and emails, we set up a call to connect and I pitched my idea to him with all the enthusiasm in the world. I was grateful to have the experience of understanding whether my design could be sellable, and while he appreciated it, the clear outcome was "tell me how I can make money from this". The biggest challenge was, what is the incentive for a company to invest all the time and resources towards this product if there were more costs than revenue to be made for them? At the end of the day the end value of my product was high for a resident, but it was not high for an investor, yet.
I can't tell you I've found the answer, but it certainly made me consider that the next pieces of research needed to focus on 1. How Nook could make buildings more cost efficient, 2. What kind of partnerships might help offset the cost of a product like this, and 3. What the current efficiency rate of full time staff was across buildings in Toronto and where my product would fit into that experience. 
In no particular order, I'd like to extend credit to these incredible humans for making this challenge possible:
     BrainStation Toronto UXFT'17 Fall Class
Alex M Chong
- Teaching Advisor
 Brad MacDonald
- Teaching Advisor
My fellow Pod team members (pictured below)